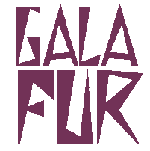 vente de vidéos en ligne:
un click sur la couverture
online videostore:
click on the video cover
Gala Fur présente sur son DVD volume 1 ses films courts ainsi que ceux de ses amis cinéastes, dont le documentaire SM'ART de Michèle Larue, avec Jeanne de Berg (Catherine Robbe-Grillet, son esclave Filou, la réalisatrice et actrice Maria Beatty, ses courts métrages LA FESTIVALIERE tourné au Festival de Cannes avec Deborah Twiss et LE FANTOME DU DESIR tourné à Graz. Le DVD présente aussi deux courts tournés par Gala Fur avec l'écrivain Pierre Bourgeade et Marie Morel dans le rôle du chien et NOVICIAT (1965), le film culte de Noël Burch, amateur d'héroïnes combattantes.
On this first DVD, Gala Fur presents her short films as well as those of her directors friends including films of Michèle Larue : her documentary SM'ART with Jeanne de Berg (Catherine Robbe-Grillet), her slave Filou, the director and actress Maria Beatty, her short LA FESTIVALIERE with Deborah Twiss shot at Cannes Festival and her documentary LE FANTOME DU DESIR shot in Graz (Austria). The DVD also includes two films made with the writer Pierre Bourgeade with Marie Morel playing his dog and NOVICIAT (1965), Noël Burch's cult film.
photo Thierry Waltzing
​
En vente au vidéoclub Hors-Circuits et à la librairie La Musardine